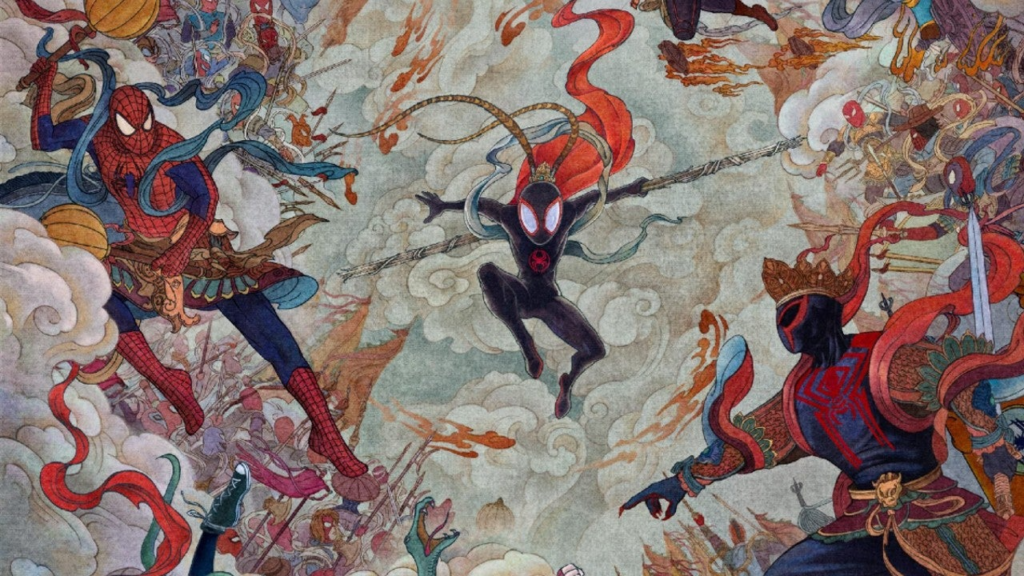 "Spider-Man: Across the Spider-Verse" takes us back to Earth-1610, where we catch up with Miles Morales, the only Spider-Man in his universe. It's been a year since the first movie, and Miles is struggling to balance his life as both Miles Morales and Spider-Man.
Gwen Stacy, known as Spider-Woman, also gets more screen time in this installment. She faces the challenge of forming and maintaining friendships after losing her best friend, Peter Parker, in her own universe.
The movie wastes no time in plunging us into action. Multiversal anomalies begin to threaten the very fabric of the universe, prompting the arrival of Spider-Man 2099, Miguel O'Hara (played by Oscar Isaac), and Spider-Woman, Jessica Drew (portrayed by Issa Rae). They swing in to save the day and recruit Gwen for their mission.
Meanwhile, back on Miles' Earth, a new villain named The Spot (played by Jason Schwartzman) disrupts Miles' plans by making him late for a meeting with his parents and counselor. Although The Spot appears weak and awkward initially, he grows increasingly dangerous after Miles insults him. Utilizing his powers to travel the multiverse, The Spot poses a significant threat to everything Miles holds dear.
The voice acting in the film remains outstanding, with Shameik Moore and Hailee Steinfeld delivering great performances as Miles and Gwen, respectively. Jake Johnson reprises his role as Peter B. Parker, while Oscar Isaac impresses as the brooding and menacing Miguel O'Hara. Issa Rae shines as Jessica Drew, and Daniel Kaluuya steals the show as Spider-Punk, one of the film's highlights. Jason Schwartzman's portrayal of The Spot is reminiscent of Gideon Graves, adding depth to the character. Additionally, Andy Samberg's Scarlet Spider brings plenty of laughs, and Brian Tyree Henry and Luna Lauren Velez once again deliver exceptional performances as Jefferson and Rio Morales.
There are countless positive aspects to this movie. While the runtime could be slightly shorter, and the romantic implications between Miles and Gwen didn't resonate with me, these are minor nitpicks since they don't heavily impact the overall plot. The animation remains astounding, capturing each universe with vibrant colors that captivate the senses. The film also surprises viewers along the way.
I can't stress enough how much I enjoyed this movie. I wholeheartedly recommend it to moviegoers. "Spider-Man: Across the Spider-Verse" is a must-see that will leave you wanting to watch it again and again.
About Author