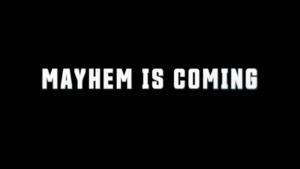 At about 8am this morning, Gearbox dropped a teaser for the upcoming Borderlands game. With all the talk and hype up to an announcement of some kind, many people are reasonably taking this as a Borderlands 3 announcement. Personally, I love Borderlands and would love nothing more than for this to be that. Though I have to keep myself in check, as there was no gameplay. Just a rendered trailer called the "Mask of Mayhem."
Those who are series fans could see the Psychos and the series Hitch-A-Ride vehicles. Some series mainstays could also be spotted such as Lilith and Mordecai. There are a LOT of new faces, some of which I expect to be the new Vault Hunters. But because there are so many of them, some fans speculate this to be a Battle Royale game. Borderlands Battle Royale…that doesn't sound terrible, but I'd rather have my single player looter shooter first.
Anywho, have a look at the trailer and draw your own conclusions. I think the Battle Royale speculation is a bit of a reach, but…who knows? We'll have to wait until tomorrow at the Borderlands PAX East panel.