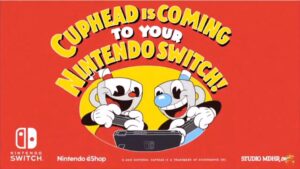 The indie darling and once dubbed the "Dark Souls of platformers" Cuphead is moving onto the Nintendo eShop April 18, 2019 for $19.99 and you can pre-order it today.
About:
Cuphead is a classic run and gun action game heavily focused on boss battles. Inspired by cartoons of the 1930s, the visuals and audio are painstakingly created with the same techniques of the era, i.e. traditional hand drawn cel animation, watercolor backgrounds, and original jazz recordings.
Play as Cuphead or Mugman (in single player or local co-op) as you traverse strange worlds, acquire new weapons, learn powerful super moves, and discover hidden secrets while you try to pay your debt back to the devil!
Cuphead, le jeu magique à l'ambiance 100 % cartoon, débarque sur Nintendo Switch ! Incarnez Cuphead ou Mugman (en solo ou en mode coopératif local) et explorez des mondes étranges, mettez la main sur des armes inédites, apprenez des techniques spéciales redoutables et découvrez des secrets cachés tout en essayant de rembourser votre dette envers le Diable en personne !