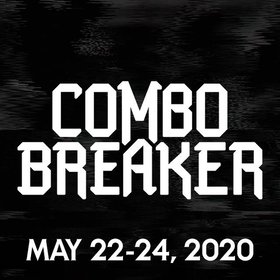 Rick "The Hadou" released the long-awaited news about the upcoming Fighting Game convention being held during Memorial Day weekend. The biggest news surrounding the event is the change of venue. Pheasant Run in St Charles, IL has been the home for Combobreaker over the last five years. Its new home in 2020 will be the Schaumburg Convention Center in Schaumburg,IL. Hotel acccommendations for the event sold out in record time. Check out the reveal trailer the event below:
2020 EVENT ACTIVITIES
COMBO BREAKER has much, much more than our 24 tournaments to enjoy and experience. With a venue open 24 hours a day, a classic arcade area, our beloved visiting artists, exhibitors, and evening exhibitions, COMBO BREAKER has something to do at all hours of the day!
Come for the tournaments, stay for the experience.
24/7 VENUE & DEDICATED CASUALS
COMBO BREAKER features a 24/7 venue, open all night and all weekend! This means you can find setups available for competition and casuals at all hours. Speaking of casuals, one of the most important reasons for traveling to a fighting game convention is the opportunity to train with competitors from outside your region. At COMBO BREAKER 2020 we aim to support this need with dedicated casual setups!
COMMUNITY TOURNAMENTS
The Fighting Game Community celebrates a seemingly endless variety of competitive games from its long history. Beyond COMBO BREAKER 2020's 24 game line-up, we have a stage, broadcast, and venue area dedicated to the passionate organizers popularizing and supporting historical titles.
APPLY TO RUN A COMMUNITY TOURNAMENT AT COMBO BREAKER 2020!
AUCTION TOURNAMENTS
COMBO BREAKER is home to a special series of character auction tournaments. These tournaments, often with special for-fun-only rules, are single elimination brackets where players bid on character-locked entry into a bracket. All bids go into the tournament pot.
2020 AUCTIONS ANNOUNCING IN FEBRUARY!
RETRO ARCADE
An entire venue area at COMBO BREAKER 2020 is dedicated to multi-genre arcade gaming powered by our friends at paradisearcadeshop.com. Whether you're looking to level up on classic hardware or discover beloved arcade classics, COMBO BREAKER's arcade is serving up opportunities to do both.
FULL LIST OF ARCADE TITLES APPEARING RELEASING IN MARCH!
SPECIAL EVENTS
Enjoy watching games at peak competitive level? Enjoy seeing some of our favorite community members showcasing great games? COMBO BREAKER will be hosting special event exhibitions!
SPECIAL EVENTS INFO RELEASING LATER THIS YEAR!
EXHIBITORS
COMBO BREAKER has an open venue floor featuring our event partners & vendors. From the annual CB merchandise booth, to Gaming Generations, Paradise Arcade Shop, and more, you'll be able to find a wide selection of excellent products at COMBO BREAKER 2020!
EXHIBITOR LIST RELEASING IN MARCH!
ARTIST ALLEY
We will have artists on hand to fulfill commission requests & sell fine art all weekend. If you've been looking for an opportunity to own a stellar piece of fighting game artistry, you'll find your chance at COMBO BREAKER 2020!
APPLY FOR THE COMBO BREAKER 2020 ARTIST ALLEY HERE!
COSPLAY CONTEST
COMBO BREAKER is hosting our fourth annual Cosplay Contest in 2020! Celebrate your love of costuming with us in a Fighting Game themed contest. Costumes can be from any fighting game, or fighting game branded anime, manga, comic book, or graphic novel!
COSPLAY CONTEST DETAILS WILL BE POSTED IN FEBRUARY!
INDIE GAME SHOWCASES
COMBO BREAKER strives to showcase games that may or may not have gotten into the public eye yet. This year we are proud to continue offering indie game showcase opportunities!